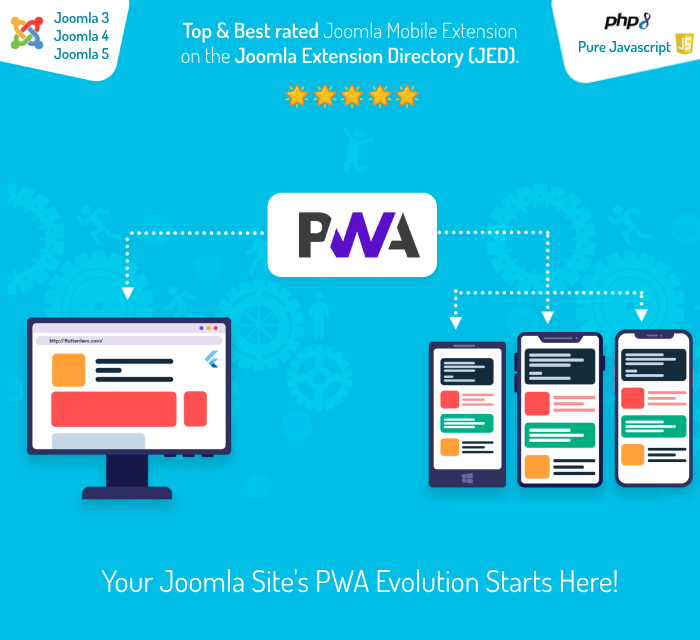 Joomla PWA Extension will help you creating your Joomla website's PWA version in just a few steps!
We provide you a fast and reliable Joomla Progressive Web Application solution for your website, it is tested and has many advanced features.
The latest update was made on 20th November 2023 and the current version is 3.0.5
Joomla PWA has been translated into 18 languages.


















Language files updated at version 3.0.1
Language files will be installed automatically.
If your language is not in the list send us a message after purchase.
100% Compatible with Joomla 5 - Joomla 4 - Joomla 3

Joomla PWA plugin offers 100% compatibility with Joomla 5, ensuring a seamless and trouble-free integration with the latest version of Joomla. You can confidently leverage the full potential of this plugin in your Joomla 5-powered website, knowing that it is optimized and fully compliant with the latest features and enhancements provided by Joomla's latest release.
No coding knowledge is required!

PWA Extension is designed for every level of Joomla Users.
Simply install and follow the included instructions to complete the setup within minutes.
Do you need to add CSS, JS or do you want to make Service Worker File customization!
You can do everything from Administrative Area without hacking the core!
Super Easy Installation and Setup

You can install and setup in just a few minutes by following the steps.
Each step of the installation is explained in detail. Every section has note and descriptions.
Why do i choose Plugin from PwaExtension.com for my Joomla Website ?

First and foremost,
our Joomla PWA Extension offers unmatched functionality, ensuring that your website operates seamlessly as a Progressive Web Application (PWA).
Comprehensive Set of Extensions,
At PwaExtension.com, we provide a complete solution that goes beyond a standard PWA plugin. You'll receive everything required to seamlessly transform your website into a fully functional Progressive Web App.
Discover the ultimate PWA plugin with exclusive features that set it apart from other plugins in the Joomla Extension Directory. A preferred choice among hundreds of Joomla users.
Guaranteed to work, 100% Compatible, The best prices.

Our extension offers the best price and a compatibility guarantee
If it doesn't function on your Joomla installation, contact us, and our developer will make it 100% working. If it still doesn't work, request a refund, and we'll process it the same day!
Key Features

You can read below the key features of PWA Plugin for Joomla
Lightning-fast performance with Pure Javascript

Starting from version 3.0.1, the plugin is written in pure JavaScript and includes the option to minify, ensuring lightning-fast performance for your website as a Progressive Web App (PWA)!
User-friendly Administrator Design with Sections and Helpful Information

This user-centric design is geared towards facilitating a quick and problem-free setup for you.
You'll receive detailed notes and descriptions for each section and parameter. Even without a user guide, these notes empower you to set up in minutes.
Start URL Customization

You can customize app start url via plugin admin area easily.
UTM Tracking tags at start URL

This feature enables you to incorporate UTM tracking tags directly into the start URL. Easily customize the start URL in the plugin admin area by adding any query parameter and UTM tracking tags, providing enhanced control and tracking capabilities.
Tailorable App Scope URL

The scope dictates the URL framework encompassing all entry and exit points in your web app. Essentially, it sets the boundaries and framework for how URLs are organized and recognized throughout your web app, ensuring a coherent and systematic navigation experience for users.
App Categorization

You can select multiple categories for your app. Defining app categories is a valuable practice for improving the discoverability, contextualization, organization, and recommendation of your PWA.
It provides a clear signal to users about what your app is about and helps you reach the right audience.
Automated App Identification

You do not need to spent any effort for identification of you app. Plugin makes it automatically!
Assigning a unique ID to a PWA in the manifest.json file is essential for its proper identification, scope definition, installation management, push notification targeting, analytics tracking, and future development. It ensures that the PWA functions as intended and provides a seamless user experience.
Define App Orientation and Display via Plugin Backend

You can select the most useful app orientation and display of your app via plugin administrator area.
App works at sub-folder

With the help of the above feature, you can create your PWA seamlessly, even if your website resides in a sub-folder.
App Naming

Easily name and provide a short description for your app using the administrator panel. Modify these details at any time with ease.
Under typical circumstances, updating these details would require recreating manifest and service worker files. However, with our seamless solution, you can recreate these files effortlessly by resaving the plugin, eliminating any complications.
App Theme Customization via Admin Panel

Customize your app theme effortlessly via the admin panel:
Splash screen background color when the application is first launched.
App status bar color.
Android Prompt background color.
Android Prompt text color.
Close icons color.
IOS Prompt Notification background color.
IOS Prompt Notification text color.
For additional customizations, you can incorporate extra styles and scripts via the "Extras" section in the plugin backend.
App Icons creation

You can create app icons easily and just upload them to a folder called images/iconset and the rest made by app.
Apple Touch Icons

In cases where your Joomla template fails to generate or load Apple Touch Icons and styling, easily address this by utilizing the Apple Touch Icons section in the plugin's admin area.
Shortcut Generator

Efficiently initiate common or recommended tasks within your web app with App Shortcuts. For instance, if you wish to direct app users to your support section, simply include it using the shortcut generator. Your app users can press and hold the app icon, then select the desired action from the shortcut menu.
App Preloaders

Elevate your website's user experience and make a memorable impact with a well-designed page preloader! You can :
Enable or disable preloaders
Show custom image, e.g. your logo or message as a preloader image
Display the custom preloader background color you've chosen, along with the specified custom opacity.
Choose from eight distinctive preloader spinners, each customizable with your preferred color!
Push Notifications Enabled

Utilize our push notifications plugin to effortlessly enable push notifications. Our plugin seamlessly integrates with OneSignal, a free service with numerous outstanding features.
Moreover, if you're utilizing a different provider, you can easily enter your push notifications provider ID in the backend settings.
Page Exclusions

If there are specific parts of your website that you prefer not to be cached by the app, you can effortlessly make selections through the plugin's administrator panel.
This feature is particularly useful for preventing certain pages from being cached, optimizing resource utilization for a more efficient performance.
Debugging Cache and App performance

Another remarkable feature allows you to toggle the debug mode, enabling you to closely monitor the functioning of your app's cache during page loading and visits through the developer console.
Re-create Service Worker File

Description
Custom Code into Service Worker File

Should your project necessitate custom code within the service worker file, effortlessly add it through the plugin's administrative area!
Simply enable the option, and seamlessly insert your code. It's an amazingly easy solution for all your customization needs.
Custom Javascript Code into Head Section

Effortlessly integrate custom JavaScript code into the head section by using the plugin's administrative area.
Simply enable the option, and your custom code will seamlessly become a part of the head section. Streamline your customization process with ease!
Custom Styling with CSS Code in the Head Section

Need to Enhance your app's aesthetics by effortlessly incorporating custom styling through CSS code into the head section?
Enable the option in the plugin's administrative area, and watch your custom styles seamlessly integrate into the head section, providing a tailored look for your site. Simplify your styling process with ease!
Replacing Prompt Message with an Icon

You have the option to enable a cookie for the prompt button. This allows you to hide the prompt button if visitors choose not to install. Instead, an icon will appear at the bottom of the webpage. You can also customize the icon's placement. Please click on the picture for the screenshot of the new feature
Minify JS

Crafted with pure JS, enhance your app's performance effortlessly by enabling the minify JS option. Streamline and optimize your app for improved efficiency!
Minify Manifest.xml File Option

Optimize your app's efficiency with ease by enabling the minify option for the Manifest.xml file. Streamline and enhance your app's performance for a seamless user experience!
App Analytics

If you are PWA Ultimate Package, you can save each installed app knowledge with a given App ID.
You can view
Device Operating System (IOS - Android - Win - Linux )
Device Operating System Version
Device Navigator Brand
Device Navigator Model
Device First Visit Time
Device Last Visit Time
Device Total Page Views
Pull-to-Refresh Plugin

Revitalize your app's user experience with our customizable Pull to Refresh plugin. Elevate engagement by adding a personalized touch to the refresh feature, tailored to suit your app's unique style and functionality.
Install and activate the Pull to Refresh plugin to effortlessly incorporate a customizable pull-to-refresh feature into your app!
Cache Enable - Offline Visibility

Visitors can re-visit your site and browse previously visited pages when they are offline.
Please click on the picture for the screenshot of the plugin administration panel.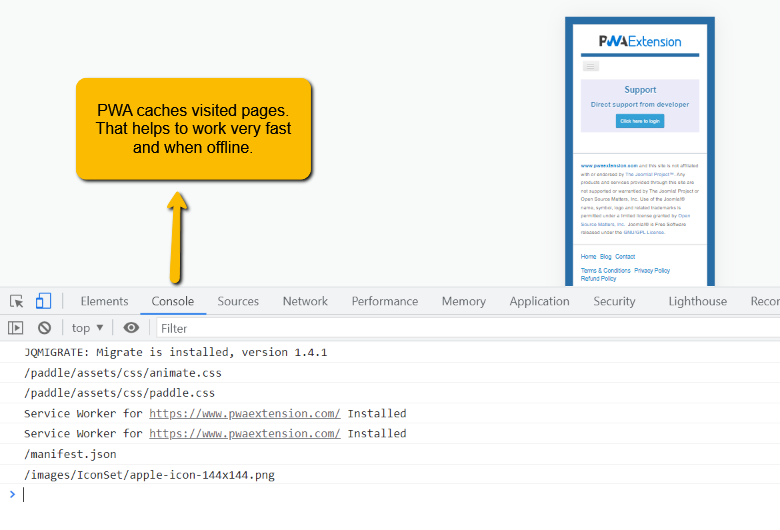 Customizable Offline Indicator

You show an offline indicator when visitors are offline visiting.
Please click on the picture for the screenshot of the plugin administration panel.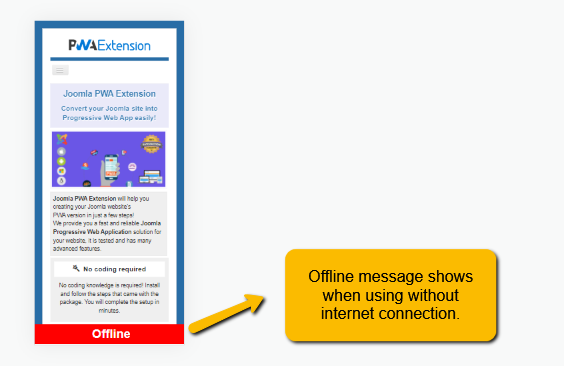 New Features with Version 3.0.5 ( Identity Update )

You can easily add one or more categories to your app for improving the discoverability, contextualization, organization, and recommendation of your PWA.
In the same time plugin will automatically give an id to your app by using the scope url.
New Features with Version 3.0.2 ( Analytics Update )

Added Analytics Code for tracking devices
New Features with Version 3.0.1 ( Performance Update )

Pure Javascript for better performance
Minify Javascript for better performance
Minify manifest file for better performance
Code refactoring for a better performance
Set PWA Cookie at first visit of a device
More customization now you can customiza close buttons from backend
4 New Translations Chinese, Japanese, Slovak and Ukrainian languages are available now
Features with Version 3.0.0

We have taken Joomla Users' feedbacks into account during the plugin update. The following features have been introduced in versions 3.0.0
Enable Button Cookie
You have the option to enable a cookie for the prompt button. This allows you to hide the prompt button if visitors choose not to install. Instead, an icon will appear at the bottom of the webpage. You can also customize the icon's placement.
Please click on the picture for the screenshot of the new feature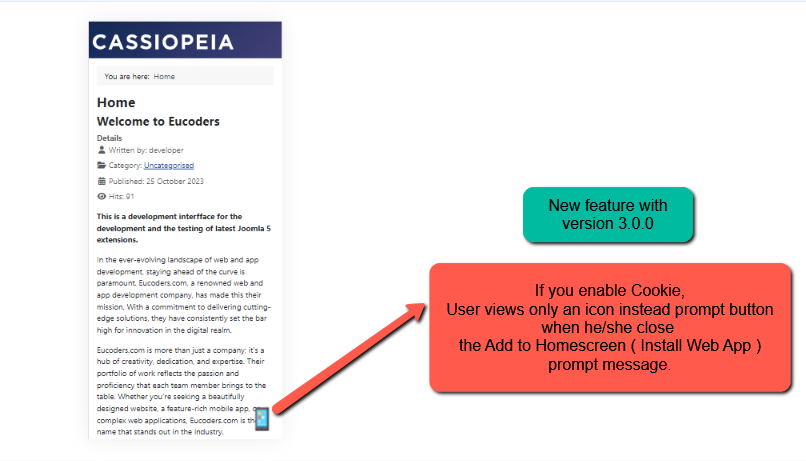 Features with Version 2.0.4 - 2.0.9

We have incorporated your feedback into the plugin update. The following features have been added in versions 2.0.4 through 2.0.9:
We have created a new video that provides instructions on installation and setup.
You can find Joomla PWA Extension install and setup video in the User Guide section for viewing.
Thanks to the hundreds of Joomla users who used the plugin and gave advice.
Now it is more powerful, more efficient plugin, with unique features!
Enable disable debug console to view cached items and how pwa works.
Optionaly, re-create the service worker file. Just select re-create option and service worker will be re-created
Add custom code to Service worker file ( only if necessary ) via plugin admin panel!
Disable cache for selected menu item(s) / page(s). This will help your pwa to use the resources more productive!
Please click on the picture for the screenshot of the new features